Catching Up with Cincinnati Reds Legend Dave Parker
By John Erardi, Contributing Writer
Since April is also Parkinson's Awareness Month, the Reds Hall of Famer and his Dave Parker 39 Foundation is reaching out to patients and their caregivers with practical tips on managing the debilitating disease. His next event is Saturday, April 7 from 1-3 p.m. at Chesterwood Village in West Chester. The Foundation's Doug King is taking reservations at dougking51@msn.com.
One of the beauties of public speaking is the insights that come directly from the horse's mouth, in this case Dave Parker's, talking to fans who visited City Gospel Mission last year as part of the Reds Hall of Famer series.
City Gospel Mission is located on the former grounds of the Crosley Field, the Reds ballpark at "Findlay and Western" from 1912-1970. CGM does a wonderful job of showcasing elements of the Reds longtime venue.
Parker's golf tournament – this year at Glenview Golf Course on October 6 raises money for Parkinson's research. Parker was diagnosed in 2013 as having the disease, and soon thereafter became a local spokesman and fundraiser for the cause.
I can tell you from personal experience that Glenview Golf Course is great shape, and should be an outstanding first-year host of the event. (Past tourneys were held at Avon Fields.) I played Glenview this week with Reds historian Greg Rhodes and Greg Gajus, a master numbers' cruncher and our longtime collaborator. We'll be teeing up for the first time at the Cobra Classic. (See end of this story for entry details.)
The golf tournament is among the reasons why I'm writing about Parker today. But I'm also writing about him because of I learned a lot from the question-and-answer program at City Gospel Mission, conducted by Rick Walls, executive director of the Reds Hall of Fame. (Parker was inducted in 2014 with fellow Cincinnatians Ron Oester and Ken Griffey Jr.)
I thought I'd knew almost everything there was to know about Parker, having covered him as a Red from 1985 through 1987. (His first season here was 1984.) I'd written a half-dozen columns and two big profiles of him over the years.
But he -- and Walls -- came up with some gems.
I can make a good case that Parker, who was born in Mississippi but moved here at a young age, is the greatest all-around athlete to come out of Cincinnati, outdistancing even those favorite sons of Silverton, Roger Staubach and Barry Larkin, who are in the Halls of Fames of their respective sports, football and baseball. And DeHart Hubbard, the former Olympic and world-record setting sprinter and multi-sport star at Walnut Hills High School (class of 1921), has to be in the mix as well.
"I grew up three streets over from here (old Crosley Field)," Parker told the full house at CGM. "I used to hustle cab doors, open cab doors for 50-cents or a dollar, whatever people would give me. One day I opened the door, and out walked Chuck Connors and Mickey Rooney. I said, 'Hey, you look just like Mickey Rooney.' They got a good laugh at that, especially (former Dodgers first baseman) Chuck Connors, who played 'The Rifleman' on TV."
Parker's idols were Reds outfielders Frank Robinson and Vada Pinson, who drove to the ballpark in their matching white Thunderbirds, red interiors, port holes on the side.
Recalled Parker: "I said to Frank one day, 'Give me something to play ball with. I don't have a glove.' He opened his car trunk and pulled out a glove. I wished I knew where that glove was now! Later, when I made it to the big leagues I tried to get Frank to remember me, but he couldn't. Vada remembered me, though. He said, 'I remember you, little green-eyed boy!' "
As a teenager, Parker worked inside the park selling peanuts and ice cream.
Parker was a three-sport star at the now-extinct Courter Tech, which was located where Cincinnati State is located today, on that promontory on Central Parkway overlooking I-75/I-74. Parker attended a workout at Crosley Field in 1967 with some buddies from Courter Tech, something I never knew until his talk at City Gospel Mission.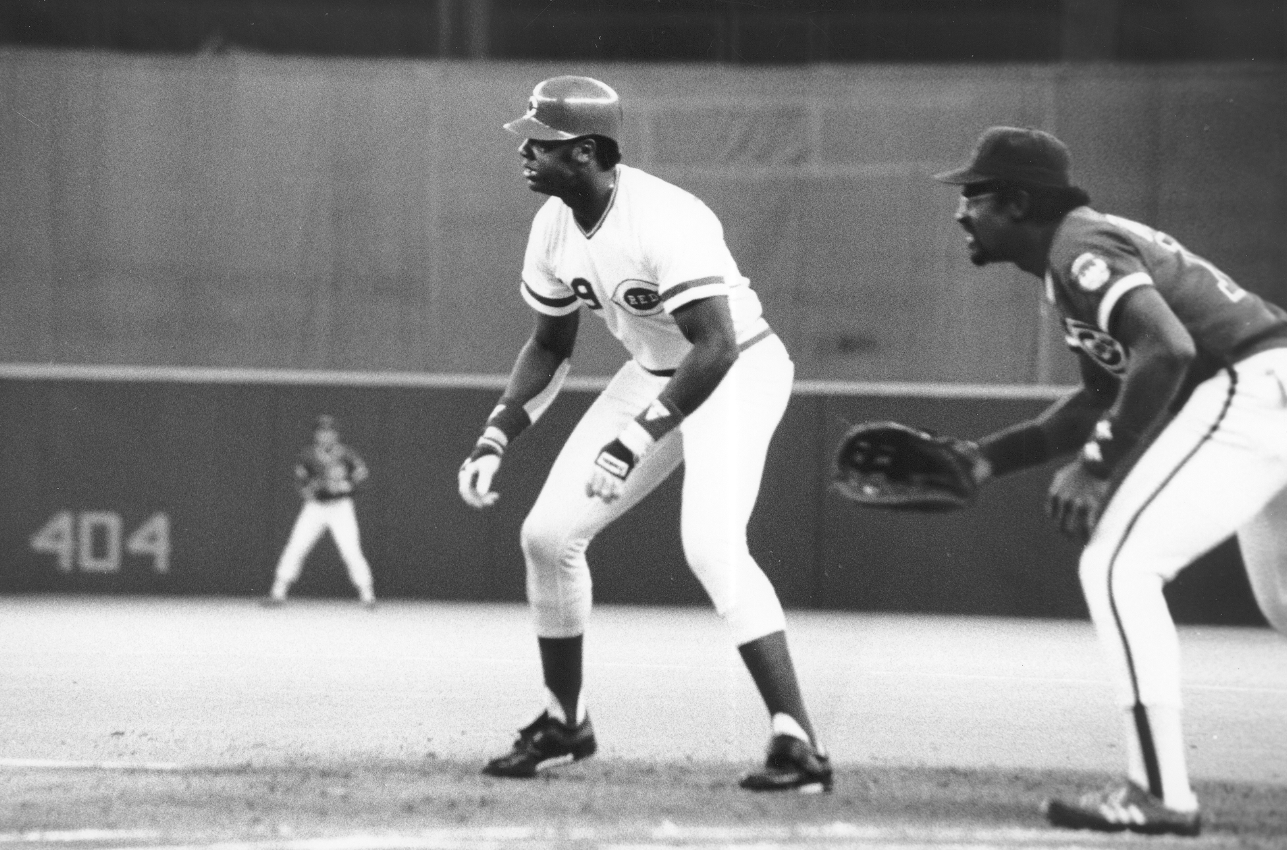 "I hit a couple balls out of the ballpark, you know, into the Sun Deck," Parker recalled. "Nobody said anything to us afterward, so I just walked away with my buddies. As I was leaving, some guy said to me, 'Hey, hey! Where you going? We want to sign you!" I said, 'I'm only in the 10th grade.' "
That brought a hearty laugh from the crowd.
Parker said his favorite sport in high school was football. His football idol was the great Cleveland Browns fullback, Jim Brown.
"Jim Brown used to run over 10 of the 11 defensive guys and he'd get up slow and it took him five minutes to walk back to the huddle," Parker recalled. "I said, 'Hey, I want to be like that guy.' "
He apparently was. A person in the crowd told Parker he had played against him in pee-wee football. The person said he could still recall – with terror -- the sound Parker's cleats made on the concrete walking to the field.
"You all had a good program outside of us," recalled Parker, drawing another good laugh.
He tore up his knee playing football as a high school senior, couldn't play basketball team and unleashed himself on baseball, which he also loved. He dropped to the 14th round of the Major League Baseball Draft in early June 1970.
My favorite story about Parker isn't one he told me, but rather is one that originated with late manager Leo Durocher, a former Red himself. Picture this: "Parkway," as all of us former Reds writers called the big fella (the 6-foot-5'er has since slimmed down from his 230-pound, prime-time playing weight ), was a true specimen by the time he appeared in his first spring training as a 19-year-old in 1971. Under the watchful eye of opposing manager Durocher of the Chicago Cubs, Parker put on a show in batting and fielding practice one day, standing out even among his accomplished teammates, future Hall of Famers Roberto Clemente and Willie Stargell.
At home plate that day, the umpires and Durocher and Pittsburgh Pirates manager Danny Murtaugh gathered to exchange lineups. Durocher said: "Let me ask you guys a question: You mean to tell me that all the scouts in the country decided there were 200 (expletive-deleted) better than him?"
Parkway then told another story I hadn't heard. That question that elicited it came from the audience: "Where'd you get that nickname, Cobra?"
"One of the trainers in Pittsburgh," Parker answered. "Tony the trainer was a big fight fan. So he associated Cincinnati with Ezzard Charles, the great boxer whose nickname was 'The Cincinnati Cobra' because of his flicking jab and sharp, stinging punches. I had that little coil at the start of my swing, waiting to the last second to swing, and that's how I got the nickname, 'Cobra.'"
I talked with Parker's wife, Kellye, after the event, and she said Dave is doing a good job coping with Parkinson's, having good days and bad days, but always maintaining his famous sense of humor, which made him a favorite in the clubhouse. He eats right and exercises regularly. He loves golf, but Kellye told me he'd probably only putt at his golf tournament.
I asked the big fella about that, and he clearly has his own ideas.
"I'm going to hit the ball," he boomed, with a smile.
Dave Parker in the National Baseball of Fame? Yes, Sir says Erardi.
In my opinion, Dave Parker has a good case for the National Baseball of Fame. As a voting member of the Baseball Writers Association of America (BBWAA), I voted for him all 15 years he was on ballot. But I am in the minority; 75 percent of the vote is needed, and 25 percent is the most he received in any one year.
His fate is now in the hands of the veterans' committee.
I tend to be a "comet" rather than "compiler" voter; I love the guys who were among the very best players in their league for a five-year stretch or more and made big splashes. To me, Parker qualifies as a Hall of Famer using this as primary criteria; plus, he was productive into his late 30s.
The objective numbers analysts don't consider Parker's Hall of Fame case to be anywhere near a lock. They cite mainly his career value number (known as WAR, Wins Above Replacement; Parker achieved a "40" WAR). Although it is true that according to the "similarity scores" method developed by numbers' guru Bill James that three of the top eight "most similar" players to Parker are Hall of Famers Andre Dawson, Billy Williams and Tony Perez -- it is also true that their career WARs are significantly better: 65, 54 and 54, respectively.
Parker accumulated 28 of 40 WAR from 1975-79.
The mid-20s to low-40s career WAR Hall of Fame hitters either had short, glittery careers (Roy Campanella) or were good offensive players but great defensive ones (Bill Mazeroski, Red Schoendienst, Pie Traynor, Lloyd Waner) or benefitted from a mega-market bias (Yankees Phil Rizzuto and Earle Combs). I regarded Parker as a great right fielder in his prime, but the defensive numbers don't support me on that.
I always wondered if Parker might have come considerably closer to the 75 percent electoral support needed for Cooperstown, and thus made his case for the upcoming veterans' committee stronger, had he won a second Most Valuable Player Award as a Red in 1985 (league-leader in RBI, doubles and total bases) instead of finishing second to the St. Louis Cardinals Willie McGee.
Parker was the first major free-agent acquisition in Reds history, signing in December of 1983. He played here from 1984 through 1987, averaging 158 games over the course of the four 162-game seasons. He was the Reds' Most Valuable Player from 1984 through 1986. In his career, he was a seven-time All-Star, and two-time batting champ. He led the league twice in slugging, twice in doubles and three times in total bases.